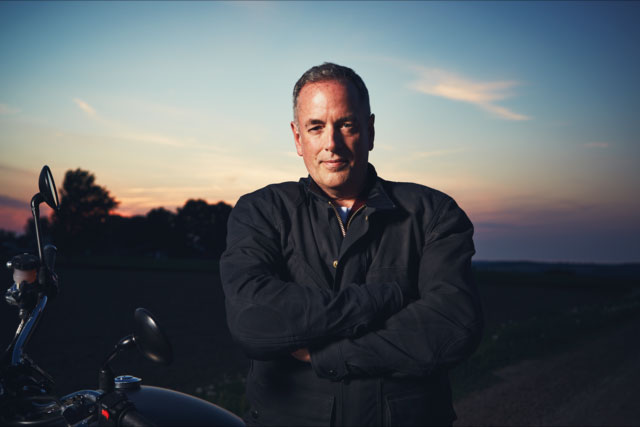 My name is Bruce Philp, and I'm one of the legions of passionate riders who found their way back to motorcycles after long detours into adulthood. This podcast is mostly about wanting to give something back to the community that makes this sport so amazing, and, if I'm honest, a little about making up for lost time.
I live and ride in Canada's Southern Georgian Bay region near the village of Creemore, where on any sunny summer weekend you'll find the main street lined with motorcycles of every kind. Currently, I'm riding a very personalized Triumph Scrambler 900 (my forever bike), a KTM 790 Adventure, a Honda CB650R, and I'm the custodian of my wife's Vespa GTS 3oo Super (don't laugh, it's wicked fast), but I love pretty much every motorcycle that's ever been made. Even the Yamaha Niken.
I've spent my professional life as a marketing consultant and business writer, and have a couple of books and a long-running national magazine column under my belt. Riding has been a life-altering break from that world, but I haven't completely lost the itch to express myself. That's how TML was born and, to my motorcycle life, it has made – to borrow from Robert Frost – "all the difference."
About Movember
TML's audience has grown beyond my wildest expectations, and so I thought it was time to see if we could do something good with all that engagement. That's why this podcast supports the Movember Foundation.
The Movember Foundation is a global charity focused on men's cancers and mental health. You probably know them from their annual Movember moustache-growing event. Of all the worthy and pressing causes in the world, I settled on Movember for three reasons. One is that they operate in almost all the countries where listeners to this show live. The second is, the problems they're trying to solve have touched people in my life, as they probably have people you know. And the third is that they have a long history of partnership with the motorcycle community through the annual Distinguished Gentleman's Ride, so they get us. Before deciding to publicly support this cause, I met with Movember both in Canada and the US, and they were just as compassionate and dedicated as you'd hope. This Motorcycle Life will always be a free podcast, and I hope that will inspire you to help out with a donation.
This Motorcycle Life is a Bent Star production, written, recorded and edited by me, with music and web-mastering assistance from Lindan Courtemanche