Are motorcycles beautiful? What is it about the sight of our bikes that sets our hearts on fire all over again every spring? Meet Amy Shore, an avid rider and automotive photographer who has made a career of documenting beautiful machines and the people who love them. She calls motorcycles "the most artistic form of transport." But in a conversation by turns funny and insightful, she dispenses with any notion that we're manipulated by design. Instead, Amy affirms what anyone who has ever been obsessed by a motorcycle already knows: stories are what make them beautiful, and they only become more so every time we thumb the starter.
Show Notes
I mentioned in my introduction that this is an important season for Movember. For more information about Testicular Cancer Awareness Month, go to Movember's web site. If you're interested in the Distinguished Gentleman's Ride this year, your dapper journey starts here.
Everything you want to know about the Santa Cruz Motorcycle Film Festival can be found right here. I wasn't kidding about the quality of the films… this community has some amazing storytellers, and they're getting better every year.
Many thanks to Episode 6's Hugh Francis Anderson for making this introduction. Time has not dimmed his eye for coolness.
I am a great fan of Amy Shore's work. She's a star among a generation of young photographers who are finding romance and art in old machines especially, qualities that we sometimes take for granted or don't see clearly when a thing is new. You should definitely treat yourself to a web site visit so you can view her portfolio. But I'd also suggest following her on Instagram, where she shares much more about her process – sometimes as it's happening – and about herself and her life as an enthusiast. She's @amyshorephotography. And here's a link to the Driven Chat Podcast, of which Amy is a co-host (they're also on Facebook). It's mostly about cars, but it's great listening anyway 😉  Be sure to catch their recent interview with Distinguished Gentleman's Ride founder Mark Hawwa.
I thought this was awesome: During our conversation, Amy made reference to advice being "a form of nostalgia" and… something about sunscreen. Despite my knowing chuckle, I didn't recognize the reference, so I looked it up. It turns out to be from a wonderful funny-because-it's-true 1997 commencement address by the Australian film director Baz Luhrmann. Transcripts are littered around the internet, but it's even better when you hear him deliver it. A YouTube link is below.
I mentioned The Art of the Motorcycle, the famous Guggenheim exhibit, early in the interview. Here's a bit of history, and here are the remnants of the story on the Guggenheim's web site.
I also mentioned a video, by Canadian motorcycle gear retailer FortNine, in which Ryan attempts to deconstruct the beauty of an FTR12oo. You'll find it below. The video is smart and maybe gives us a glimpse into the mind of the designer. But it's a little light on romance, if you ask me, and some of the most loved bikes in the world don't exactly follow the formula. What do you think?
We talked about two events that offer target rich environments if you're looking for beautiful motorcycles, the Goodwood Revival and the Great Malle Rally. Follow the links to find out more.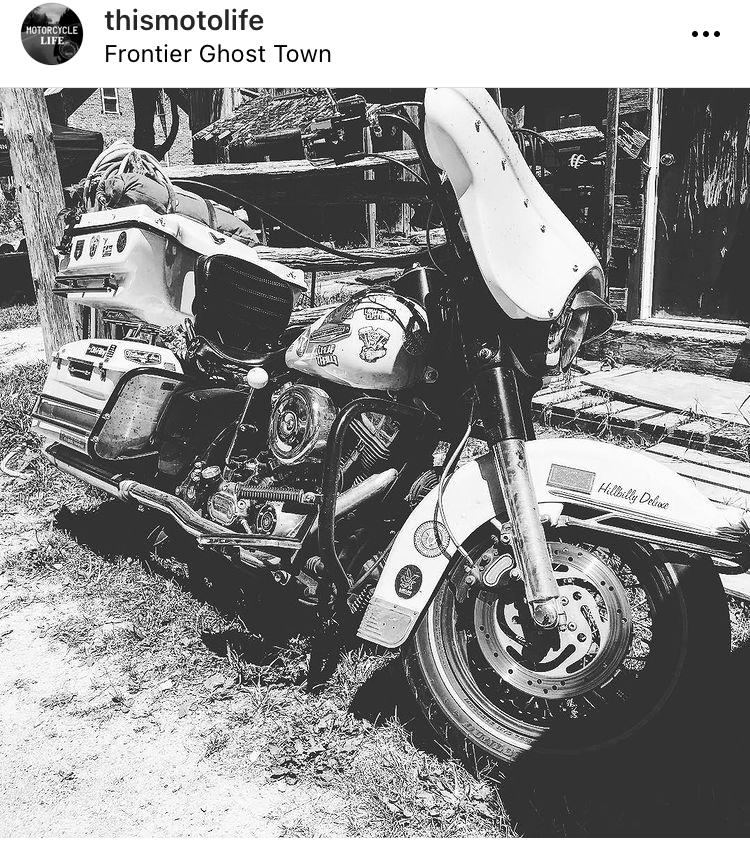 In my closing comments, I reminisced about a bike I'd seen at a custom show a few years back. Above is that bike. It's owned, it turns out, by a genuine character who goes by the name of @hillbillybobber on Instagram.
A sucker for roots music and a well-played dobro guitar, I was delighted to discover this incredible performance of "1952 Vincent Black Lightning" by Red Molly. I was even more delighted when I asked the band how they'd feel about being featured on this podcast, both because they were into it, and because they were so completely great about it. The fact that they're Movember supporters made meeting them even better. Talent and heart are a rare combination. I'm their newest fan, at least until you discover them, too. You can learn more and get concert information at their web site, which is here. You might also enjoy watching them perform this track live, below.
As always, the theme music for this episode was arranged and performed by Harry Bartlett.