Can an epic ride really change your life? Meet Chris Donaldson, whose unplanned 39,000 mile odyssey still burns bright forty years later. Bright enough to write a vivid book from his original diary. Bright enough to keep the motorcycle he rode. Bright enough to want to finish the intended journey on that same bike at the age of 63. Interrupted then by a revolution and now by a pandemic, Chris remains undeterred. And his incredible story proves the best thing about epic rides isn't that they grow you up, but that they guarantee the best part of you never will.
Show Notes
Those keen of ear will have noticed some strange internet noises during this interview. Sorry about that… the battle with satellite connectivity continues, though I'm promised that there might be an alternative by spring. Fingers crossed. In the meantime, thanks for putting up with it, and with my complaining.
If you'd like to hear a little more about the original trip, Chris Donaldson was interviewed on Adventure Rider Radio exactly a year ago, when the book first came out. You can find that conversation here, or wherever you get your podcasts.
Chris Donaldson's book is called 'Going The Wrong Way', and depending on where you live, you can purchase it on Amazon or directly through Chris' web site, which is here. Do yourself a favour, though, and visit his site even if you buy the book elsewhere. One of the most amazing things about this story is that Chris was able to get, and keep, so many candid photographs from the original trip, so don't miss the gallery. Meanwhile, the image of young, grinning, fearless Chris on the cover is timeless.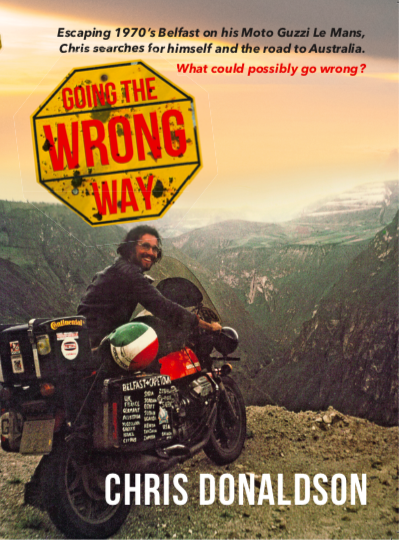 And so, apparently, is this Moto Guzzi. Below, Chris Donaldson today, en route once again to Australia.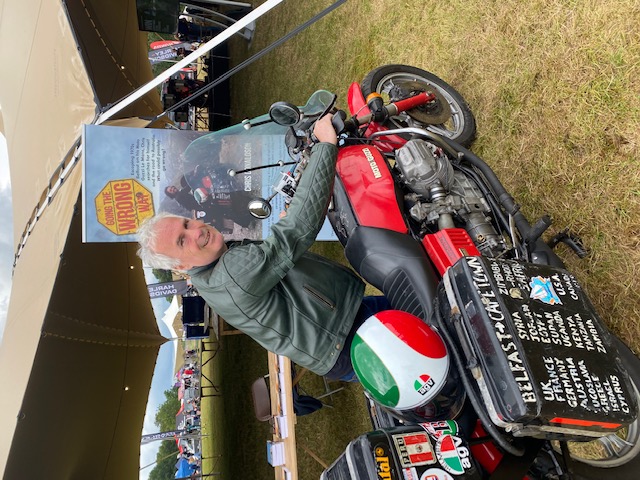 At the end of 'Going The Wrong Way,' Chris has included a delightful easter egg for readers, a poem by C. P. Cavafy called "Ithaka". It's a lovely and perfect summary of the truth that this episode, his book – and perhaps Chris' life – are really about. If you'd like to read it, you can find the full text here. I hope it inspires your own journey as much as it does mine.
If you're not familiar with the Moto Guzzi Le Mans, Wikipedia will be happy to get your feet wet. You'll find that article here. Besides being one of the great Guzzis of all time, it's also one of the most important classics of its era. You can still find its styling cues on Guzzis today, along with a fiercely dedicated following. Besides being a Guzzi fan, I'm not sure why it delighted me that Chris rides one of these and not a more predictable Brit bike. I should have asked him, I guess… instead, I'll just put it down to youthful rebellion.
What I would have paid to listen in on Chris and Ted Simon talking about their adventures, and about writing. I have to confess that I haven't yet read Jupiter's Travels… it's one of those canonical motorcycling books that is so inevitable we somehow never actually get to it. Now, I will. Ted Simon helped cast the die for modern adventure motorcycle travel, and for how to write about it. A remarkable person. Here's an interview with him.
As you heard, Chris aims to finish this trip (I'm told the riding in Australia will make it worth the effort, although he may not want to avoid the desert bits). Here he is below with his 'young' traveling companion on Guzzi's V85TT.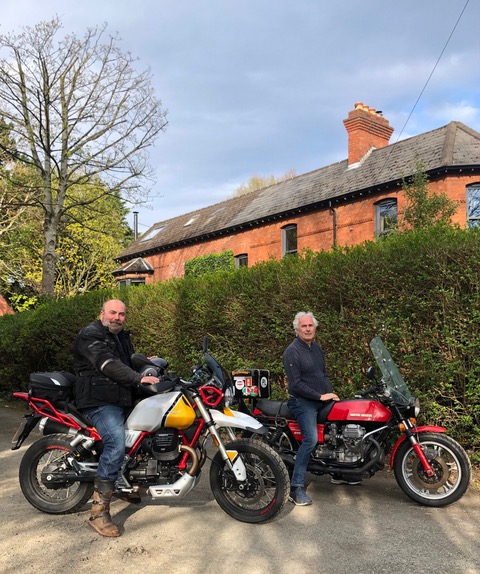 After our conversation, Chris offered to share some notes on the adventure ahead, and here they are, complete with his darkly funny working title.
Adventure before Dementia
When the Ayatollah Khomeini took over Iran in 1979, he pissed of a lot of Americans. He also screwed up my overland ride to Australia. I had just left Belfast on my Moto Guzzi Le Mans, so I ended up going to the Middle East, Africa, and North and South America
Everywhere but Australia! So this year after the publication of my book, Going the Wrong Way, at the age of 63, I decided to take the same 44 year old bike and try again.
Together with my young 50 year old mate Liam on his new Moto Guzzi V85, we left the UK in September leaving the Overland Event in Oxford, before stopping at the Ace Cafe in London and the Brighton Burnout. After crossing to France we headed south through the Black Forest and Switzerland, before stopping in Mandello del Lario for the Moto Guzzi Centenary (that was canceled, but in typical Italian style they changed their mind the week before, and it went on anyway.) Covid can't stop the Italians having a party.
Down to the coast to Genoa, we joined a huge motorbike demonstration to complain about the state of the roads, after the bridge collapse that killed 43 motorists in 2018. Then we followed the Italian coast south from Portofino to Rome, then on to Pompeii, where our bike boots walked where the chariots had left groves in the cobbled streets.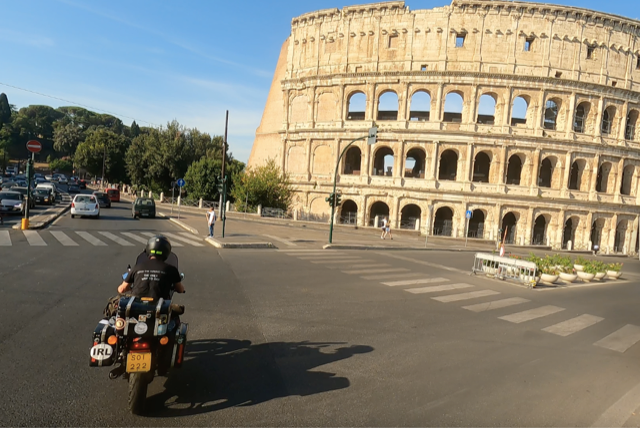 We had had no problems with Covid restrictions since we left the UK, but decided not to go to Albania when we discovered that due to the virus the Greeks were only letting 140 people a day to cross the border. The country is the most corrupt and dangerous in Europe so we opted for an overnight ferry from Bari to Greece, and the next day we cruised into Athens, from where a much younger but just as stupid me had left for Israel 42 years ago.
The two Guzzies performed well, with a bit of competition between my 44-year-old Le Mans and Liam's young pretender V85.

We left the bikes at a Moto Guzzi shop, and flew home to replenish our wallets and relax our brains for a couple of months before flying out again in November.
On starting the next leg, we shipped the bikes to Israel, and spent a few days seeing the sights before we rode to the Jordan border post in Eilat. Then disaster, the Israeli guards warned us that the Jordanians might no let us and we wouldn't get back as Israel only issues Visas at the airport. We could be stuck in no-man's-land forever! Tom Hanks, eat your heart out! The Israelis checked with the Jordanians and sent them pictures of our bikes, but the Jordanians said they didn't like them. (Probably BMW owners!) We would be forced to take the boat out of Israel, just as I did 42 years ago.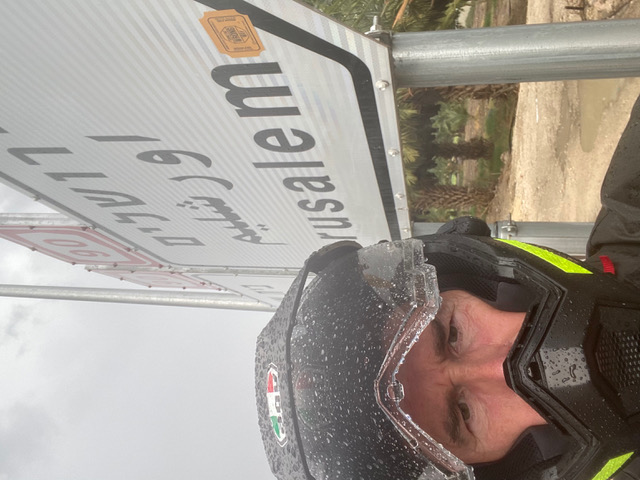 Egypt had very bad Covid numbers. We could go out though Syria… but while the civil was over, I wasn't as brave as I was when I rode through there in 21. That evening in the bar Liam and I had a huge argument. I wanted to leave the bikes with my cousin in the Golan Heights until we got the paperwork, Liam wanted to take them back to Greece, but I relented the next day, and we shipped back to Athens.
Then the new Covid strain appeared in S Africa and Israel, which immediately stopped flights. Our worst fears becoming reality. Liam jumped on the V85 to head back to the UK, while I parked up the Le Mans with some friends from the Hellenic Moto Guzzi club.
We would return to ride another day.
The next leg of our epic Covid beating adventure ride to Australia will be through Turkey and Iran, to Dubai, but with the Omnicrom virus in full swing, everything is on hold. But hopefully, war and pestilence allowing, we will get back on the road in March.
Many thanks to Simon Hardeman for sharing "Ton Up" with us for this episode. Mercury Heart has not performed together since the pandemic began, but he has been hard at work on a solo project, "Nights Under The Moon." You can give that a listen and find out more about Simon's other work at his web site, which is
here
. And in case you can't picture a Moto Guzzi California Black Eagle, behold: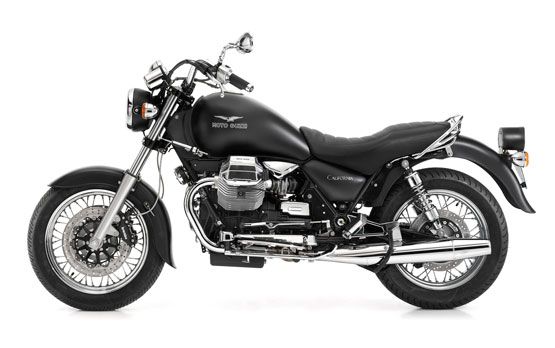 As always, the theme music for this episode was arranged and performed by Harry Bartlett.
Don't forget to check out my new store for TML merch… the link is at the top of this page. And finally, a nudge to scrounge up a few bucks from the couch cushions and make a contribution to the Movember Foundation in the name of this podcast… just click on the moustache below. Especially now, they could use all the help you can give them, and you'll be letting me know how much you value this content. Thank you!