The custom bike scene, along with the legions of 'modern classic' bikes it's spawned, has invigorated motorcycling. Beyond the cafés, scramblers and choppers that adorn our Instagram feeds, this retro aesthetic has even crossed over to the mainstream, making moto culture global, fashionable… and aspirational. What is it that attracts us to motorcycling's mythic past? In this episode, I talk to Hugh Francis Anderson, a young British writer with a passion for bikes and a provocative take on what it means to motorcyclists, and maybe everyone else, too.
Show Notes
Hugh Francis Anderson might have the best job in the world. You can learn more about him and read more of his work by visiting his web site. The article that originally caught my eye is here. It's a short piece, but I was intrigued that it touched on some themes that most motorcycle writers avoid when it comes to customs, and Hugh's generational perspective and London roots made him an especially fun interview for this topic.
Our conversation referenced a bunch of brands from the custom scene. Here's a few of the major ones:
This is Untitled Motorcycles, the London custom shop Hugh mentioned when he spoke about his discovery of this scene. And here's Blitz Motorcycles, the Paris custom shop that seems to have led the way for legions of interesting European builders.
Two hipster hangouts spawned by the custom scene came up in our conversation: London's The Bike Shed, and Deus Ex Machina's Emporium of Postmodern Activities in Los Angeles.
Spain's El Solitario are, maybe… post-post-modern? Is that a thing? Anyway, their work is among the most polarizing in the custom scene, and while I don't love all their bikes,  I do love their attitude.
Hugh mentioned a UK brand of moto luggage and clothing, Malle, which I hadn't heard of, so I looked it up. It's pretty cool.
I mentioned Brooklyn's Union Garage in the context of the Distinguished Gentleman's Ride. I love these guys; they were a bit of a gateway drug for me. Check out the DGR next year. It's a worthy cause to ride for.
Here's the stunning Brough Superior, the best bike Hugh had seen all year. No words.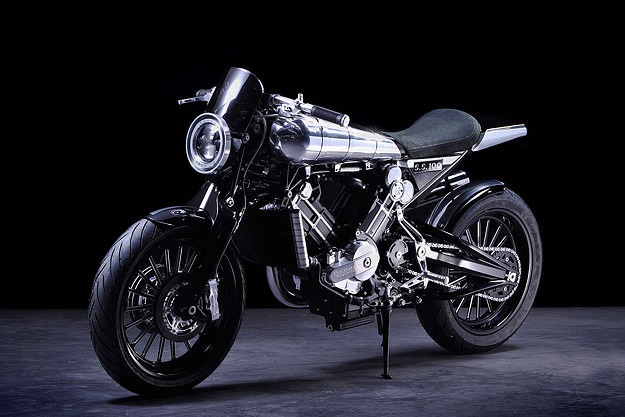 And finally, our TML Playlist selection, Daytona '69, was selected for us by – and used with the kind permission of – Blue Mercury Coupe. You can discover the band and add this track to your collection here. Thanks Steve,  you rock.
With great sadness, this episode is dedicated to my Dad, who passed away while we were in production. Dad rode bikes until he was nearly 80, and though he was quieter about his passions than I am, it left an indelible impression. Chin on the tank, Dad.