How do you pass on your love of motorcycles to the people who matter the most?  Sometimes, the answer is a motorcycle. Meet Larry Gibson and grandson Eric Clingenpeel, two of four generations to own and ride the same 1947 Indian Chief since its discovery in a barn in 1954. After nearly 70 years, the love and adventure invested in this machine have given its motorcycle-loving family a wealth of stories, and the Chief a vibrant life of its own. A heart-warming reminder of what a motorbike is really for, and a recipe for making a great one last forever.
Show Notes
If you're up for this year's Distinguished Gentleman's Ride, you'll find everything you need to know – including how to dress – here.
Thanks again to Eric Clingenpeel for reaching out to share this wonderful, personal story. And thanks to grandpa Larry Gibson for providing a treasure trove of photos that made our conversation even more so. Generosity seems to run in the family.
First things first: If you, like me, were not very familiar with this particular motorcycle, here's a reference to catch you up. To my uneducated eye, the word 'quintessential' seems to fit, here… this is the American big twin rendered exuberantly as art.
Here's a selection of photos and videos that document some of the stories you heard in our conversation, starting with three from that fateful trip to Sturgis circa 1992. Pictured are Larry and his wife, Dixie, as well as a close-up of "how we packed the horse", as Larry put it.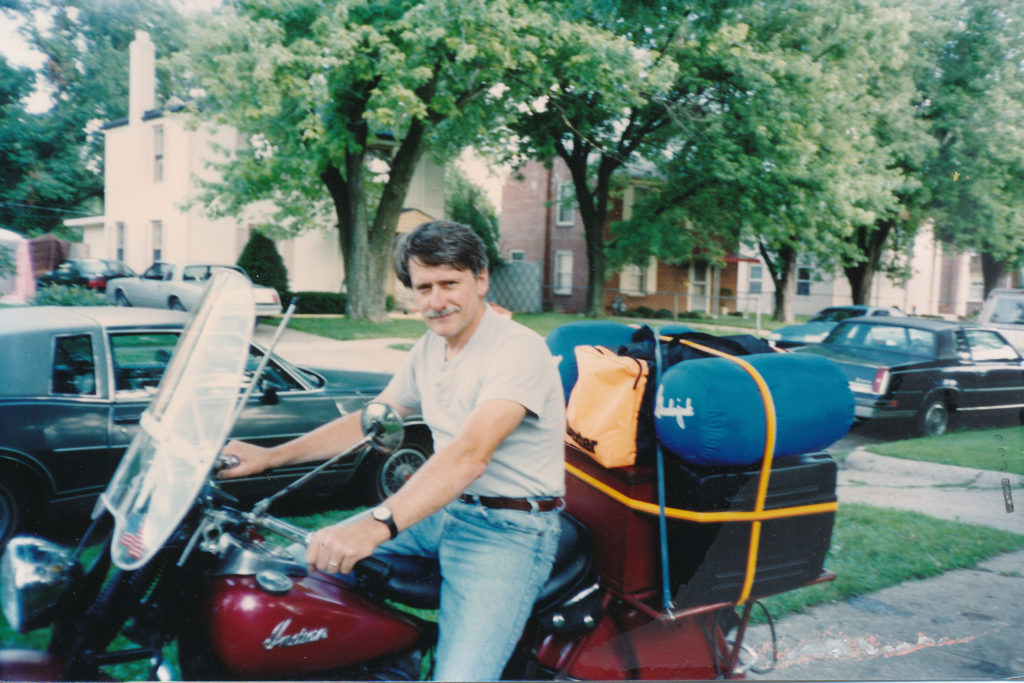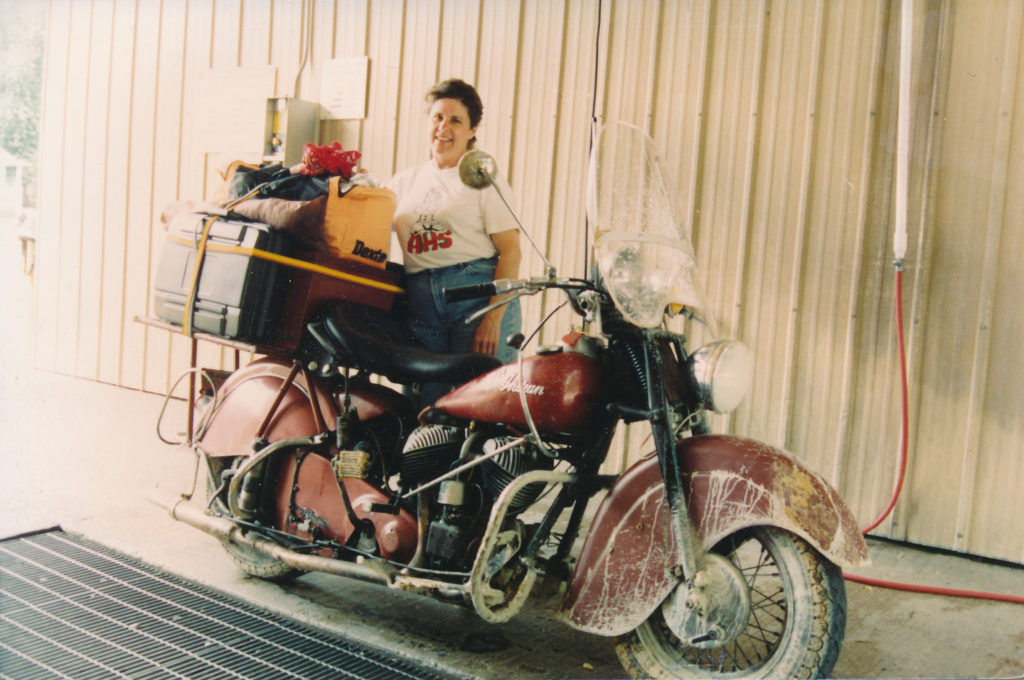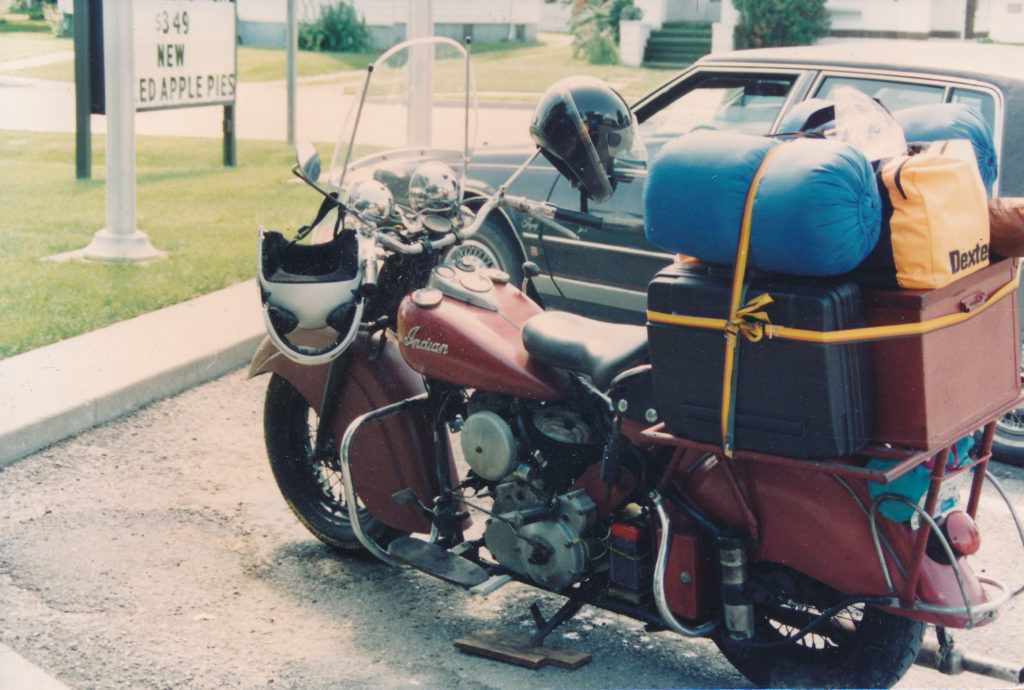 A playful scene from the Gibson living room, sometime after the Chief's temporary retirement. While life goes on, the bike hides behind the partition in the background on the left, waiting to cast its spell on the next generation. For me, this was one of the best parts of the story. Somehow, someone knew this machine's job wasn't done yet.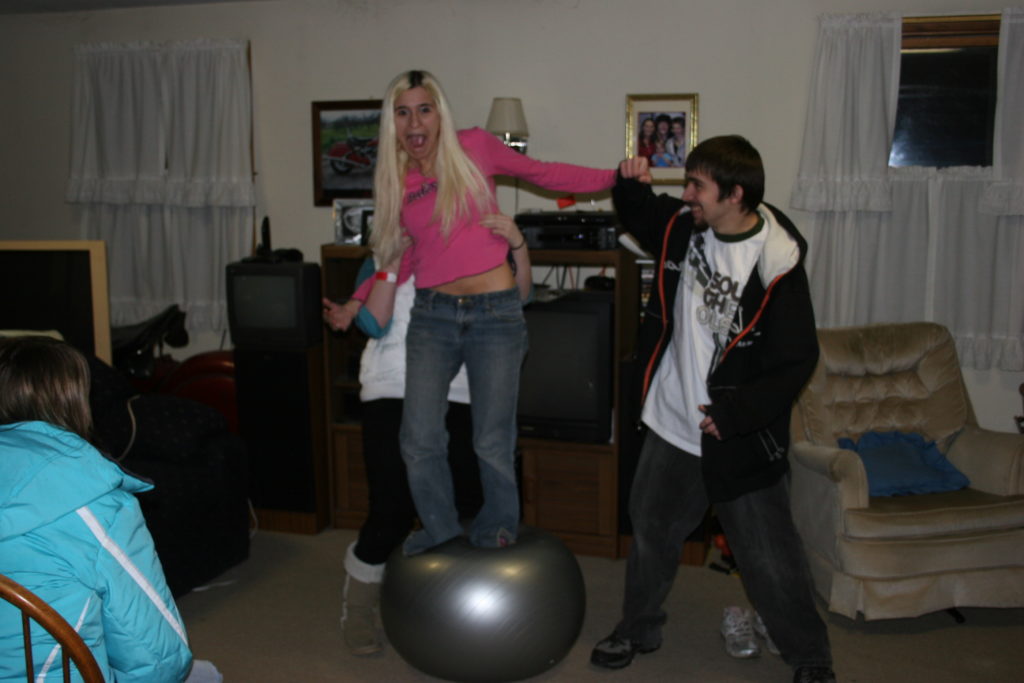 What is it about motorcycles and guitars? This frame did some time as what Larry called "a very expensive guitar stand." Pictured at center is Larry's dad's 1930 Gibson guitar, which has been played by the same four generations that have shared the Chief.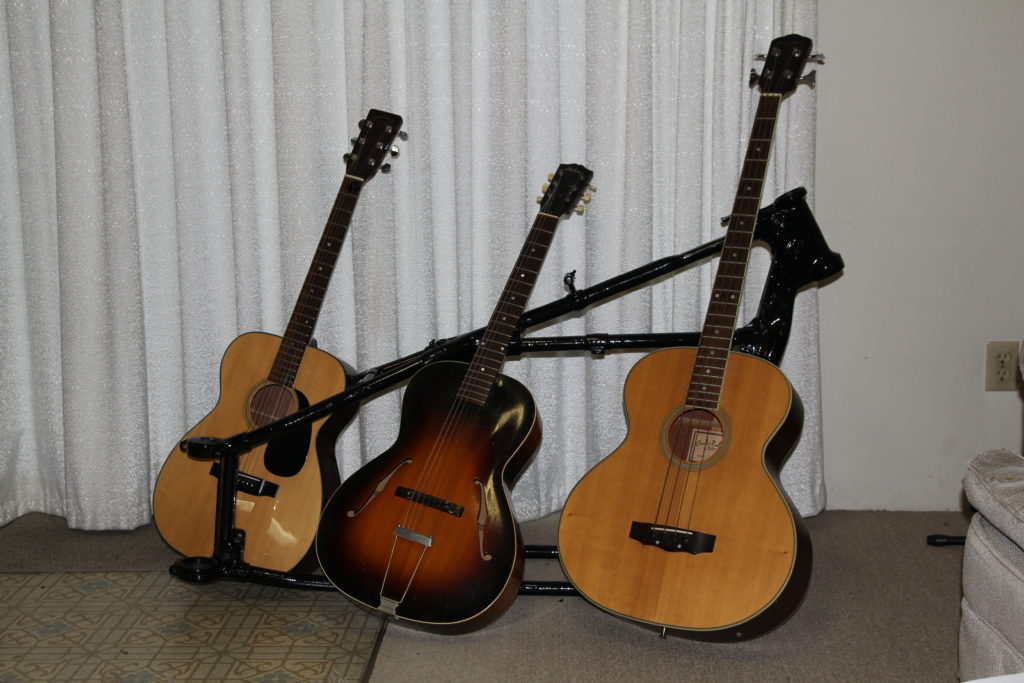 Fast forward to 2018, and here's Larry starting the completely rebuilt Indian for the first time. Note the confidence… I think that runs in the family, too.
Larry's YouTube channel yielded this companion piece, a short demonstration of what it's actually like to ride this bike. I was struck by three things: First, it looks kind of hard. Second, the rider makes it look easy. And third, once you've mastered it, there seems to be a languidness about this big, old horse that you'd be hard pressed to find in a modern bike. In Eric's words, "it's like a clock."
This episode's inspiration, Eric Clingenpeel, astride the resurrected Indian Chief.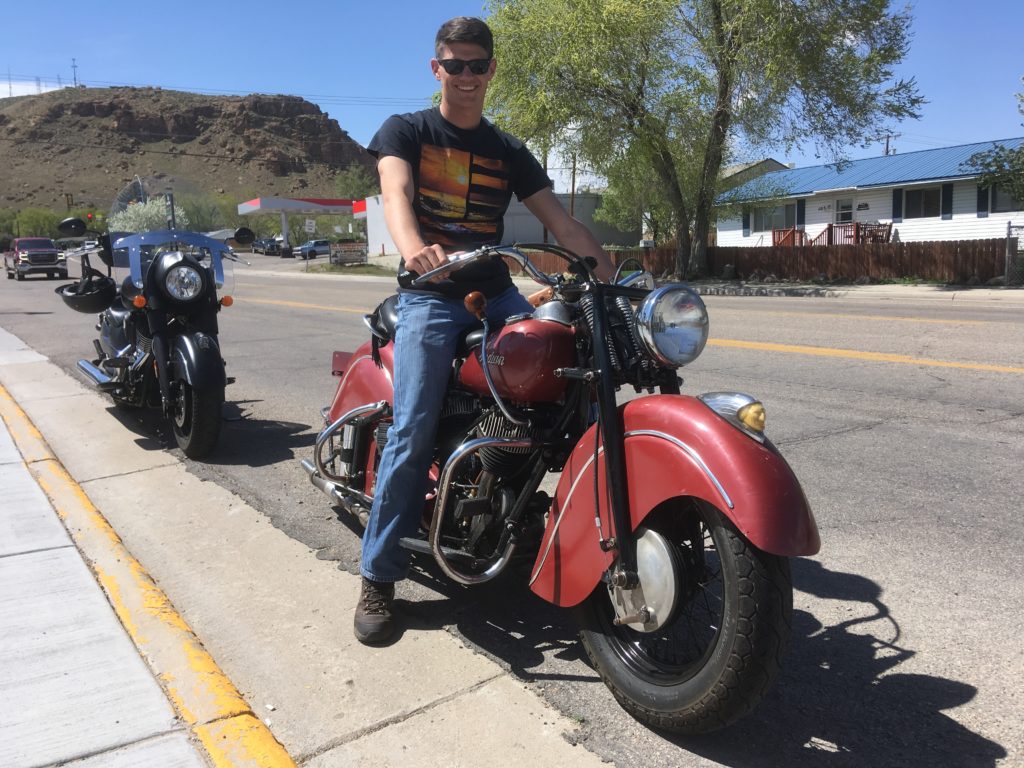 Larry, Eric and brother Reece, in Wyoming. For sheer soul, there's not an ad agency on earth that could have done a better job for this storied brand than the picture below.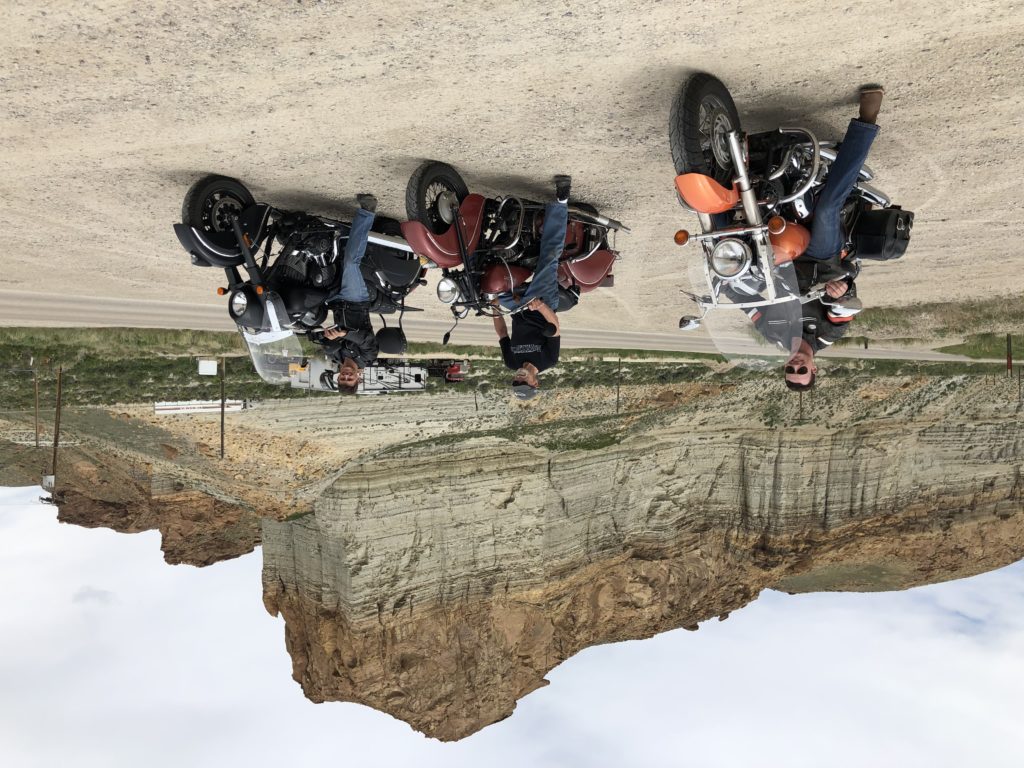 There could be no better way to wrap up this story than to meet the kids who will write the next chapter, thanks to the proud grandpa who got them on film. Below, members of the family racing a hand-built facsimile of the chief in a local soapbox derby, and young member of the clan at the helm of an electric replica Larry found at a garage sale. He's lucky I didn't get there first.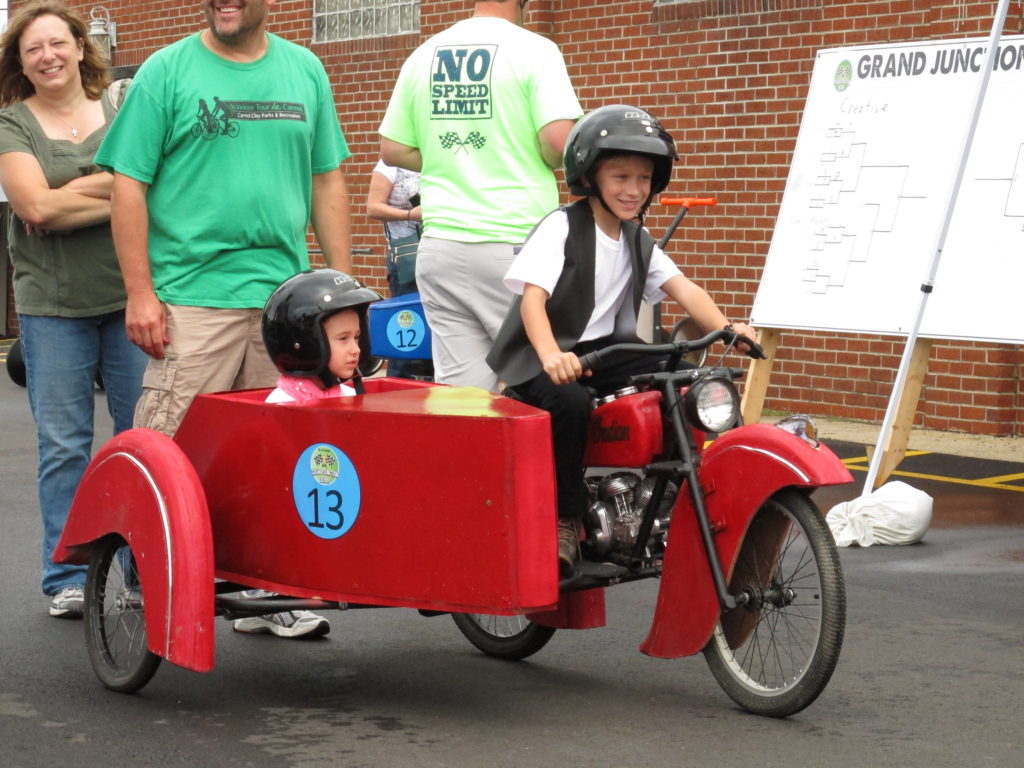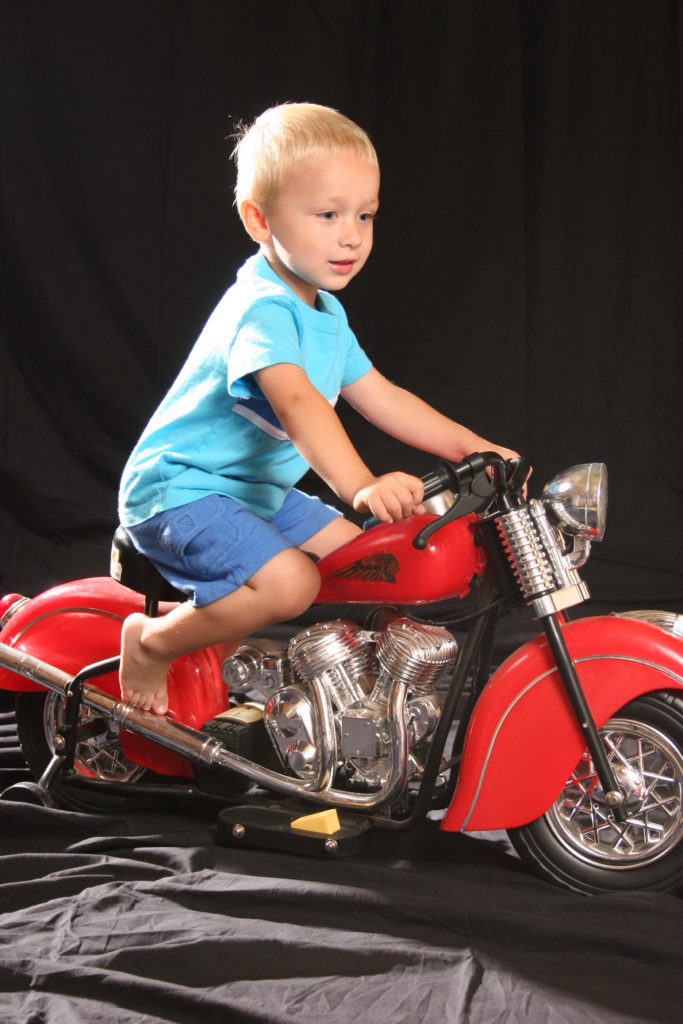 Thanks to Mark Kasprzyk of Redlight King for once again letting me feature his music on this show, this time his brilliantly reimagined "Old Man." The famous story about Neil Young personally approving the use of his iconic 1972 track for this project is, I'm happy to report, absolutely true, and I think Redlight King's performance is genius. Written early in his career, Young's original feels almost like a wistful glimpse into the future, a rising star wondering aloud where it will all go. Redlight King's interpretation is like a coda to that, a look back in gratitude to the people who make us what we are. I love it. Redlight King has been hard at work throughout the pandemic, despite being the challenges of performing. A new album is in the works, and they're thrilled to be booking festivals again. Follow Mark on Instagram @redlightking, and on music platforms like Spotify.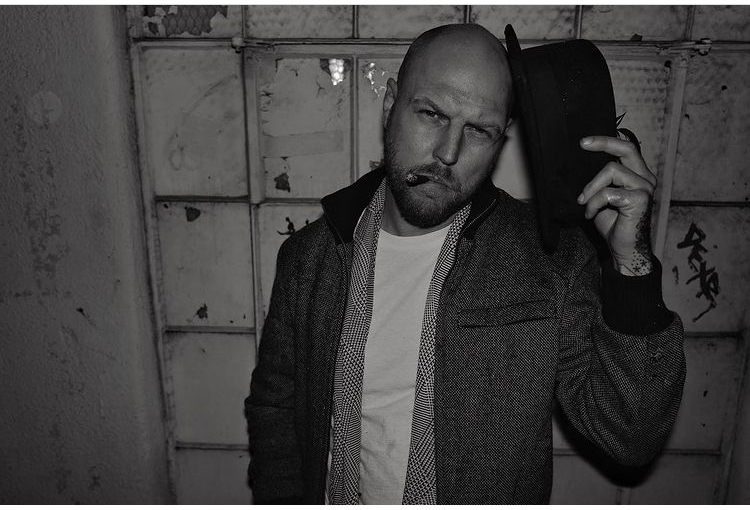 As always, the theme music for this episode was arranged and performed by Harry Bartlett.
Don't forget to check out my new store for TML merch… the link is at the top of this page. And finally, a nudge to scrounge up a few bucks from the couch cushions and make a contribution to the Movember Foundation in the name of this podcast… just click on the moustache below. Especially now, they could use all the help you can give them, and you'll be letting me know how much you value this content. Thank you!