How can we find goodness in a world gone mad? Obviously, the answer is on a motorcycle…  just maybe not the way you think. Meet Harold Serrano, a kid from New Jersey who's begun a global odyssey not to escape reality, but to reimagine it. In a lively conversation that careens from Plato's Cave to facing bandits on a lonely Columbian highway, Harold's unconventional take on moto-touring reveals yet another trick a bike has up its sleeve: the power to reconnect us. Get ready for a long solo ride story like you've never heard… along with just a dash of magic.
Show Notes
This interview features a bit of colourful language, most of which I have left intact because I really want you to get to know Harold Serrano the way I did. It would be easy to see Harold as a scrappy "kid" on a bike (he's not a kid, of course) who we might think from the comfort of our living rooms is doing something a little reckless. Only with time do we get to see his big heart and the passionate inner life that drives him. That's clearly what his hosts have seen. And by the time I was finished editing this episode, I realized that the openness to see things like that in each other was maybe its most important theme.
If you'd like to connect with Harold Serrano, here are a couple of social media options: On Instagram, he's @WhereisHarold, and onTiktock, he's Wheresharold
Harold wrote and self-published a memoir of his South and Central America adventure. I was unable to get a copy in time for this interview, but you certainly can. It's here, and apparently also on Amazon.
There were some fun cultural references tossed into this conversation, a couple of which I have to admit I had to catch up with afterwards. You can start doing that the same way a lazy scholar like me does… with Wikipedia.
First, and most delightfully, the story of Don Quixote, which is more complex than most of us (who didn't study literature, at least) remember from Man of La Mancha. Start here, and don't blame me if you end up in a glorious rabbit hole.
Harold added a cultural flex by recalling the name of Don Quixote's horse, Rocinante. Delightfully, it, too, has a Wikipedia page. Looking at you, DR650 owners…
The reference to Plato's Allegory of the Cave was right on the money, and competed strongly as a theme for this episode. Here's a bit about that.
The Motorcycle Diaries is well known to a lot of us in both book and movie forms, so I won't belabour that here. Harold told me that the subject of Che Guevara is still a touchy one in parts of South America.
Harold also mentioned The Alchemist, a book that has apparently made countless questing souls feel understood. Here's a bit about it.
And I mentioned in passing a movie called In And Of Itself. It was sort of an aside when I brought it up, but on reflection it's a film about identity and magic, soooo… If you're curious and love a movie that gets talked about for weeks after you see it, it's an hour and a half you won't regret.
Harold shared a generous album of photos with me, too many to post here, but below are a few that give you a flavour for how he travels. Although he was also understandably proud that there were indeed some 'epic' accomplishments during his south-to-north adventure, there is no denying from seeing the journey through his eyes that it was all about the people.
A million thanks to Drapht and his crew for sharing "Don Quixote" with us in this episode. Besides being so delighted with the track, I was fascinated to see what a rich and vibrant hip hop scene there is in Australia. It's proof again of what a universal and enduring form this is, easily making room for the culture, humour and issues unique to that country. And with a pile of platinum and gold records and two Aria awards under his belt, Drapht is clearly among its greats. If you'd like to know a little more about him, start here. He's on all the socials, of course. And he happens to have a new album, which you can find right here. As for the rest of his music, it's in all the usual places. I purchased "Don Quixote" in the iTunes store.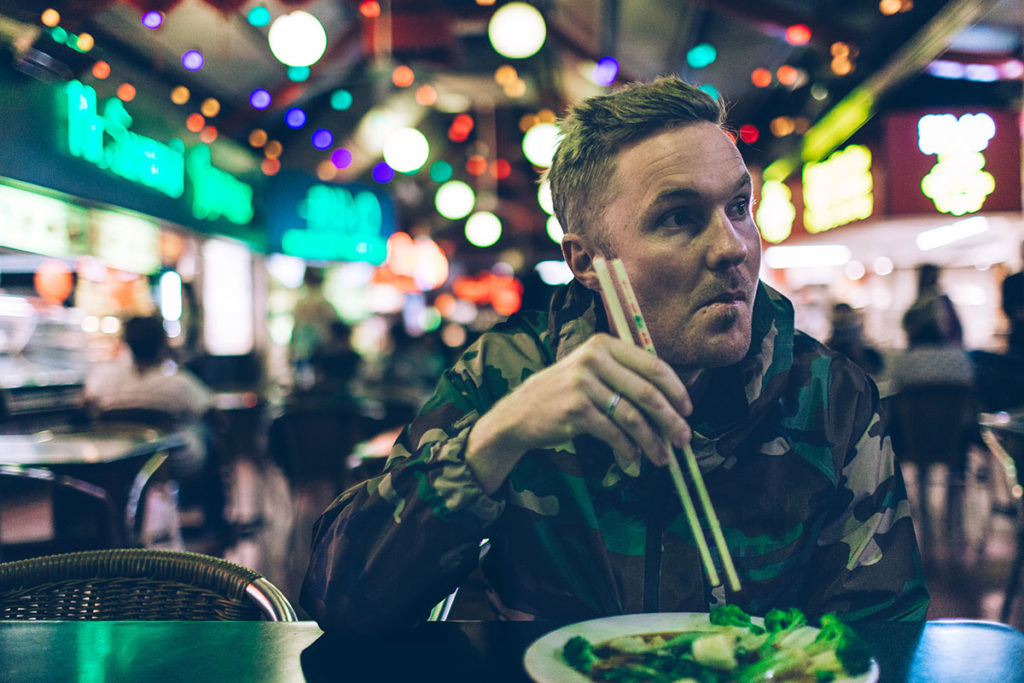 As always, the theme music for this episode was arranged and performed by Harry Bartlett.
Don't forget to check out the merch store. And finally, a nudge to scrounge up a few bucks from the couch cushions and make a contribution to the Movember Foundation in the name of this podcast… just click on the moustache below. Especially now, they could use all the help you can give them, and you'll be letting me know how much you value this content. Thank you!