What makes a great mechanic tick? Meet Miss Emma Booton, a 'humble wrench' who builds, restores and fixes some of the Bay Area's most special motorcycles. What begins as an inside look at life in the back of the shop becomes an expansive conversation about the role of machines in motorcycle culture… and a profile of someone who's dedicated her life to keeping our love for them burning. An affectionate look at ourselves in the mirror of the people who do this work, and proof that keeping our bikes running and our hearts aflame can often be the same job.
Show Notes
First things first: Miss Emma is a principal character in one of my favourite motorcycle podcasts, Motorcycles and Misfits, without which I may never have discovered her. If you're not already a fan, check them out on all the usual platforms or here. Besides being on the show, Miss Emma is a frequent fixture at Santa Cruz's Recycle Motorcycle Garage, a cooperative space for motorcyclists to gather, learn and work on their own machines. I've never been, but I have the impression things go just a little more smoothly when Miss Emma is holding court.
In case you don't subscribe to my newsletter, below is the video that provoked my gushing about British riders. Of course, my generalization actually makes no sense at all. But watch this, and tell me there's not something to Emma's assertion that constant rain breeds smoother motorcyclists.
Below is a picture of Miss Emma with 'Tubbo', the turbocharged Gold Wing referenced a couple of times in our discussion. Reverent, it's not. Awesome, it is. This photo is from The One Show, and borrowed here from Women Riders Now.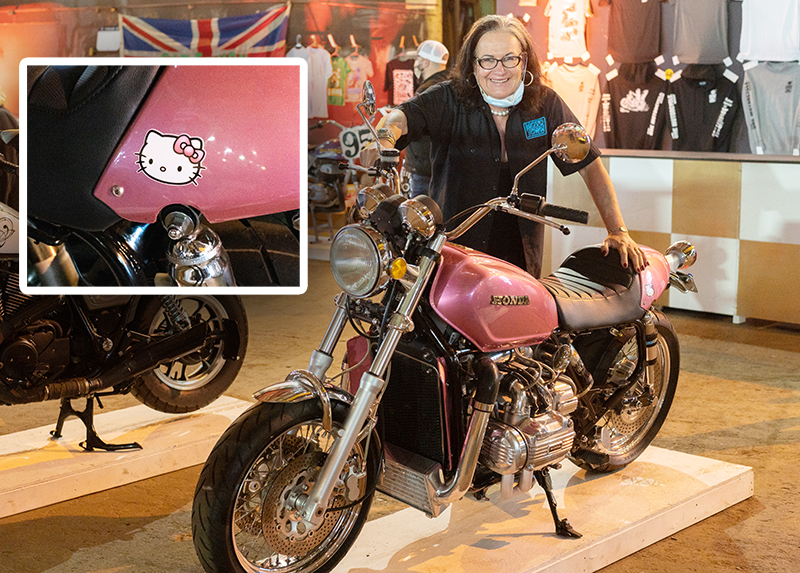 Emma talked about a lot of motorcycles that mattered to her over the years, too many to list here. But this one deserves special mention, not least because it's the bike on which she won that Birmingham-to-Germany bar bet. The photo below isn't of her particular bike, but you get the idea… this is what trouble looked like in 1979.
I wasn't sure someone with Emma's experience would have a quick answer to the question, "who's the best mechanic you ever knew," but was thrilled that she did. And what an answer. Stan Stephens turns out to be a legend, and someone you can very pleasurably find out a lot more about by reading his autobiography, "The Mechanic Who Got Lucky." More about that here. Here's a great read about one of his "terrifying" two-stroke builds. And below, the man himself.
After Emma opened Moto Town, it wasn't long before word got around. This screen grab from Reddit gives you a hint of how highly she's thought of in the community there.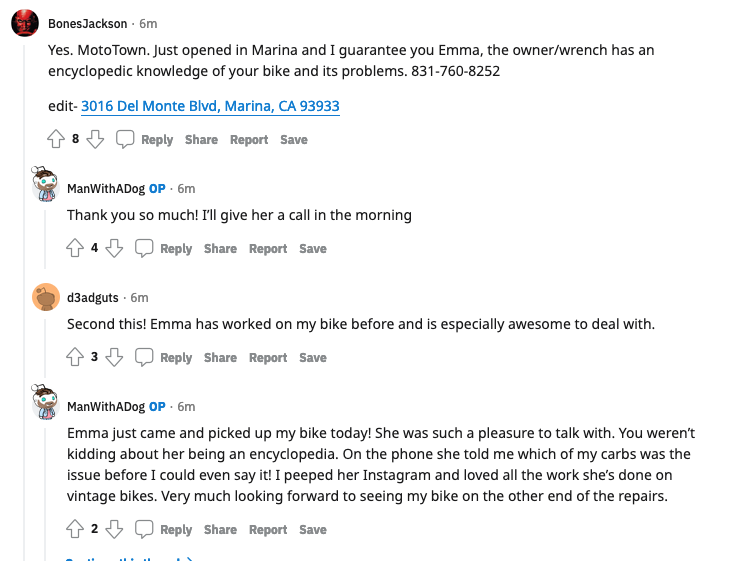 Emma can be found on Instagram, where she's @emmabooton1962. Say hi, and be sure to check out her vintage El Camino bike hauler. Style for days.
I would love to include a link to Moto Town in these notes, but there is none to share. I have a feeling business is brisk. And that if I were to show up for an oil change, I might be in for a lecture. Below is her Instagram invitation for the shop's opening, which will tell you how to find it… and give you a pretty good idea of the vibe of the place.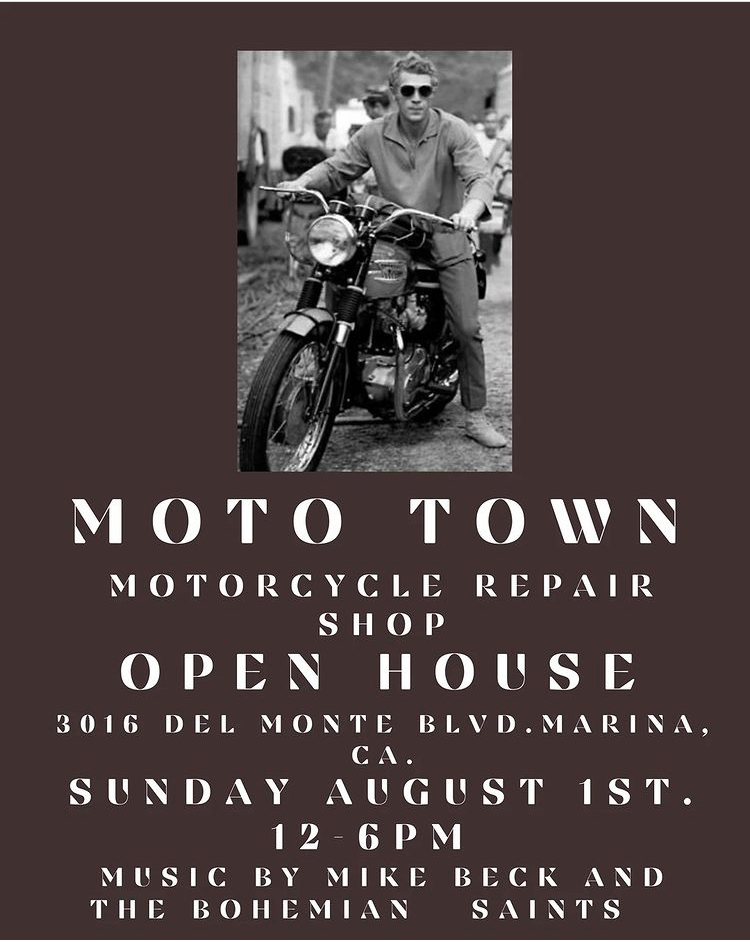 Thanks, of course, to Miss Emma for doing this interview with me. But thanks also to Liza Miller of Motorcycles and Misfits, for being so quick and gracious about introducing us. I owe you one.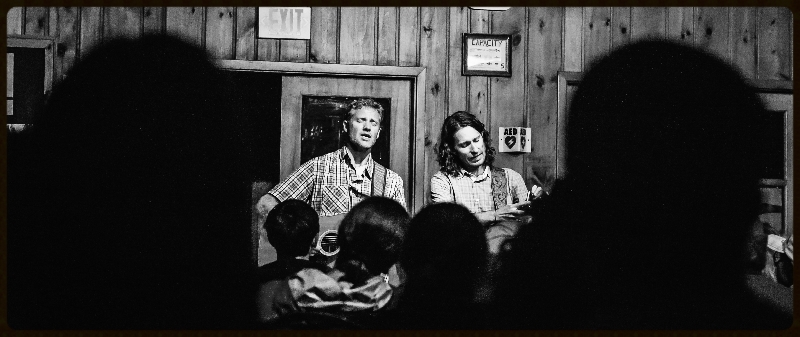 Many thanks to Storyhill for allowing me to share their music with you. The featured track, "Long May You Run," comes from an interesting project called Duotones, a tribute anthology to the great singer/songwriter duos of the 70s. You can find that album right here. This or any of these tracks are also available for purchase on iTunes, if you're more of a downloader than a streamer.  And Storyhill's web site is here, if you'd like to learn more about them.
As always, the theme music for this episode was arranged and performed by Harry Bartlett.
Don't forget to check out my new store for TML merch… the link is at the top of this page. And finally, a nudge to scrounge up a few bucks from the couch cushions and make a contribution to the Movember Foundation in the name of this podcast… just click on the moustache below. Especially now, they could use all the help you can give them, and you'll be letting me know how much you value this content. Thank you!