Why does motorcycling inspire so much creativity in the people who do it? From true artists to passionate amateurs, something ineffable about these machines compels many of us, including this podcaster, to share the ride with the rest of the world… or at least with each other. For its fiftieth episode, TML turns the mic on its host in a conversation with fellow podcaster, Chasing The Horizon's Wes Fleming. A frank confessional about why motorcycling's creators do what they do, how podcasts like this happen, and why it might be time to let your own creative muse out to play.
Show Notes
Humble thanks to the listeners who suggested doing this episode, both for thinking the 50th was worth celebrating and for thinking the show's host would be a good subject. I couldn't quite make myself take center stage like that, but this seemed like a fair compromise. And it opened the door to meeting a pretty great person in Wes Fleming. Funny how that get-outside-your-comfort-zone thing works…
And thanks to Wes for enthusiastically agreeing to do it, and for saying all those nice things. I recommend adding Chasing the Horizon to your podcast menu almost no matter what you ride. Wes' show is a two-fer, as they say around here: nobody I know puts the effort into following and reporting on developments in the motorcycle industry that Wes does, and that's just the appetizer. He has had some great guests, one or two of whom have also been on this show, and I envy – that's the honest word for it – his natural and easy interviewing style. A recent favourite episode of mine was his interview with Melissa Holbrook Pierson, which adds a ton of colour to what she shared a couple of years back on my show. His recent look at the impact European motorcycle regulation has on the sport worldwide is great, and shines a light on a force in this sport that isn't widely enough acknowledged. Here's a link to Mark Barnes' podcast on Apple Podcasts, and here's another to the BMWMOA's YouTube channel.
You may recall that I attempted to acknowledge a generous serial donor to the Movember Foundation at the beginning of this episode. Let me do that properly here: he is Urspeter "Upe" Flueckiger. Upe has an Instagram account that features some soul-nourishing photos of his Beemers… he's @moto_zen_upe.
When I spoke about the variety of creativity that motorcycling inspires, you may have caught mention of haikus. Well, you need to know that I didn't just pull that out of my hat. I am the proud owner of a copy of Moto Haiku, by the passionate and prolific Marc Teatum. Marc's meditations are haikus more in spirit than technical form, and riders will find that spirit comfortingly familiar. Check the book out here, get to know Marc, and treat yourself to a copy.
Below is a photo of the Yamaha Twin Jet 100, my earliest memory of a motorcycle. I've borrowed it here from Bike-urious , who I hope won't mind. After this machine, my father would take a long break from riding for the usual career and parenting reasons, and return to the sport with his affection for vintage Japanese iron undimmed. The Twin Jet is a pretty interesting bike, technically speaking, but it's the design that impresses me. Never has this style of bike looked so badass, and Yamaha's tradition of sexy fuel tanks clearly has deep roots.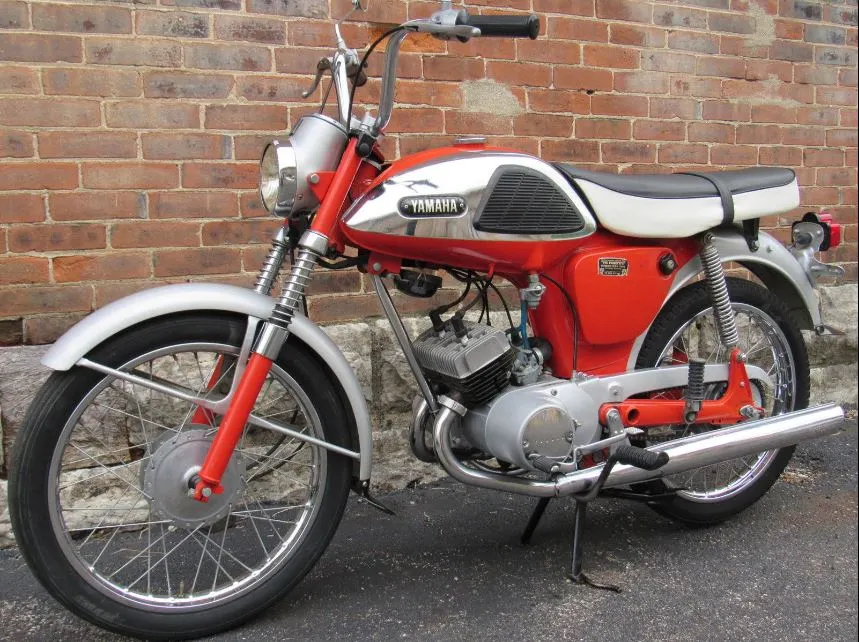 I mentioned in passing a book called Riding With Rilke, by fellow Canadian Ted Bishop. After our conversation, I got to thinking about the way motorcycling had been screaming at me all my adult life before I finally paid attention… this book was an example of that. I read it at least ten years before I finally did anything about it. It's lovely and meditative, and just a little off the beaten path of motorcycling reads. Recommended. And yeah, Ducati Monsters still turn my head.
Wes mentioned a well known motorcycle writer named Clement Salvadori. Well known to everyone but me, apparently… here's a bit more about him and his work. He seems like one of the sport's true characters.
We talked for a couple of minutes about Omar Petralis, my guest for Episode 40: The Worst That Could Happen. If you're inclined to cherry pick your TML episodes for the ones that seem most relevant to you, I strongly recommend investing the time in that one. So much inspiration from so much tragedy, and surely the last word in how much riding motorcycles means to the people who do it. You can say hi to Omar on the socials: he's @oomis on ADVRider, GTAM and Instagram.
When I introduced this episode's playlist recommendation, I mentioned that four guests had ended up providing their own music for the episodes in which they were featured. Respect if you could name them from memory… you probably deserve a prize. They are Erik Buell, Redlight King's Mark Kasprzyk, Chris Mara (who did not perform but produced the track), and of course Wes Fleming.
If you'd like to see 7th Grade Girl Fight live, the place to go is their web site, which is here. You can find their music on all the usual platforms, though not all of it in any one place… it's worth looking around to get the full picture. And here's their YouTube channel. They look like a blast live. I don't want to sound like a pretentious rock critic, but I get great 90s alt rock vibes from this band. High praise, since that's my favourite decade, musically.
As always, the theme music for this episode was arranged and performed by Harry Bartlett. Harry just released a new album in December, I believe his first. You should give it a listen.
If you'd like to help keep This Motorcycle Life podcasting, be sure to visit the 'Support' page on this site. And finally, a nudge to scrounge up a few bucks from the couch cushions and make a contribution to the Movember Foundation in the name of this podcast… just click on the moustache below. They could use all the help you can give, and you'll be letting me know how much you value this content. Thank you!