What makes a road legendary? From Route 66 to the Pan-American Highway, Geoff Hill is an award winning travel writer and long distance motorcyclist who's ridden his share of the roads the rest of us dream about. In tales that are by turns romantic and hilarious, Hill's self-described "boy on a bike" makes these dream roads seem suddenly more accessible, and their call all the more insistent. In this delightful conversation, Geoff reveals that it's their very ability to make excited kids of us all that gives these places their magic, and leaves us with a message: just go.
Show Notes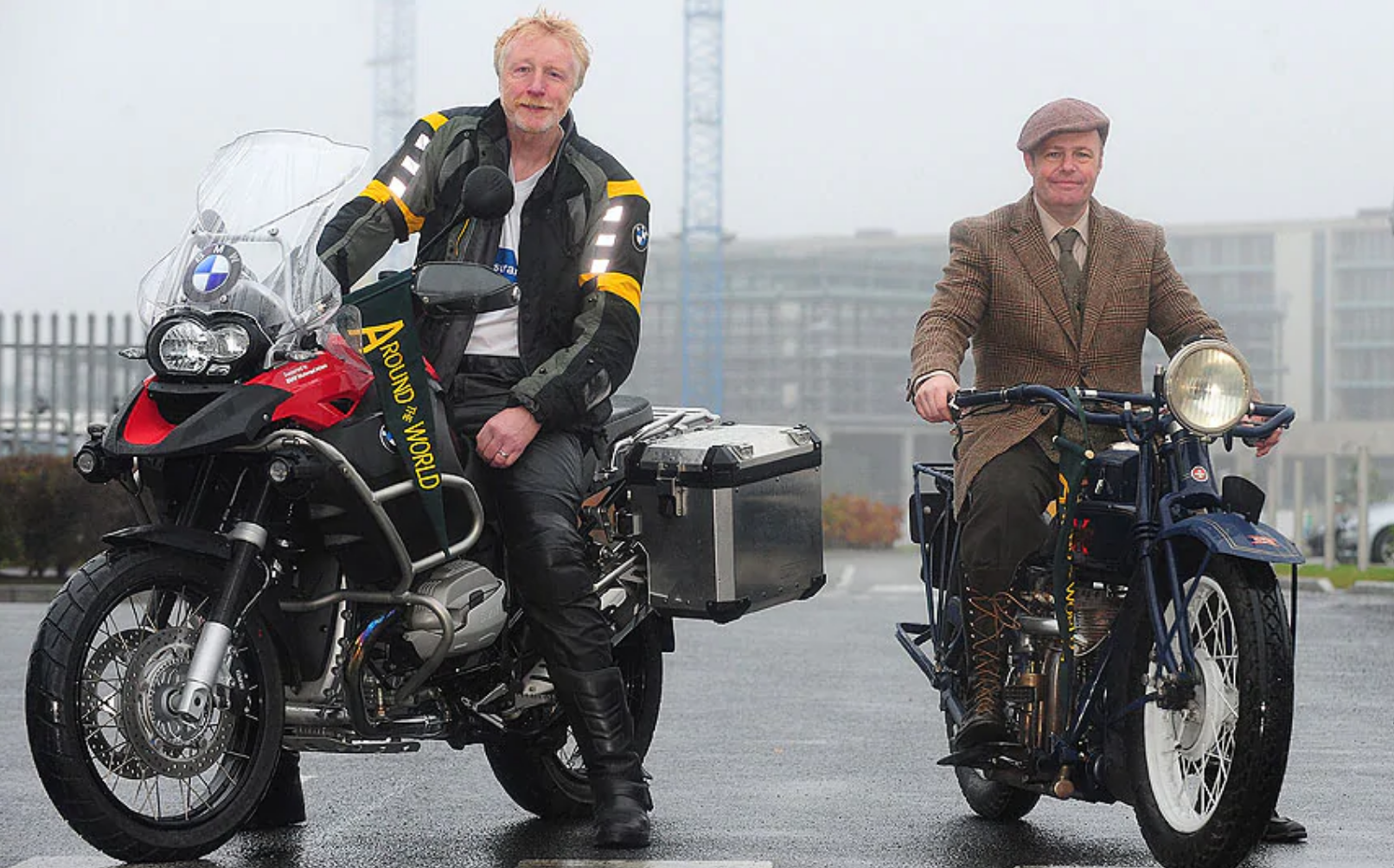 Above is a picture of Geoff Hill, taken around the time of the 'Clancy's Boots' trip. I call your attention to the fact that he's flat footing a GS with his knees still comfortably bent, and invite you to draw your own conclusions about his height. The photo is borrowed from this article on the The Telegraph's web site. I hope they don't mind.
Here's the playlist Atlanta rapper Wyldthang wanted me to share with you. Whether or not rap is your thing, it's always inspiring to me to see motorcycle culture expressing itself, and what a unifying force it is.
If you haven't read any of Geoff Hill's motorcycle adventure books, here are some links. They direct you to Amazon's US site, just because that's where the majority of my listeners live, but Geoff's books are widely available throughout the Amazon world. I'm following his recommendation to read them in the sequence in which the trips took place, and it definitely adds to the experience:
'Way to Go', about the Delhi-to-Belfast and Route 66 trips.
'The Road to Gobbler's Knob', which chronicles the Pan-American Highway adventure.
'Oz: Around Australia on a Triumph', which is self-explanatory. You can see Geoff talking about that trip on YouTube here.
And 'In Clancy's Boots', about his 'round the world tribute ride to Carl Stearns Clancy.
On the subject of books, here is a link to Chris Scott's 'Adventure Motorcycling Handbook', which plays a role in the story of Geoff's decision to tackle the Pan-American, and which he recommended during our conversation.
He also had good things to say about Horizons Unlimited, which you can find here. ADVRider also has many fans as a resource for trip planning… just avoid the general discussion forums, unless you want to participate in endlessly circular flame wars about countersteering, car tires and octane ratings, and completely lose your faith in humanity.
Geoff Hill isn't an Instagrammer, but you can find him on Twitter if you want to say hello. He's @ghillster.
And Hugh Francis Anderson, whom I owe my thanks for making this conversation possible, is still living our lives for us on Instagram. You should definitely follow him if you don't already. Not everything he does is on motorbikes, but everything he does is still pretty damn cool. He's @hughfrancisanderson
Finally, you should definitely spend some time getting to know Daring Greatly, who provided this episode's playlist recommendation (apologies for the sub-optimal sound… the featured track is actually from a YouTube video and, as far as I know, is not for sale). You can learn more about them on their web site, sample their sound on SoundCloud, and purchase their music in all the usual places.
I'll confess that I'm amused by little serendipities like this, but America's "Ventura Highway" is even more appropriate to this episode than it seems. It turns out that the genesis of this song was a childhood memory of a road trip on the Pacific Coast Highway. The "alligator lizards in the air" were clouds, as remembered by the writer and his brother as children, standing by the side of the road while their father changed a tire. You can see why it was irresistible.