Why do we really seek adventure? Meet Henry Crew, the youngest person ever to circle the globe on a motorcycle, alone. His life barely begun and full of questions, Henry put it all on pause and embarked on a record-setting 381-day ride for a cause, a journey he hoped would change his own story in the bargain. The compelling account of how and why he did it is a lesson in how true adventure is about letting go, and its prize is not what we find, but who we become. Listen carefully, and you might just hear the voice of motorcycling's future.
Show Notes
An important message for listeners during the COVID-19 crisis: My friends at Movember have shared that they are hearing from members of our community who are "really struggling with isolation" and who have "lost friends and colleagues" to the disease. If you are one of those struggling, please don't keep it to yourself. And if you think you know someone who may be, Movember has shared some useful tools to help you be there for them. You can find out more by following this link. Either way, don't remain silent. One of the best things about being a motorcyclist is the family that comes with it, and there has never been a more important time to remember that. Thank you.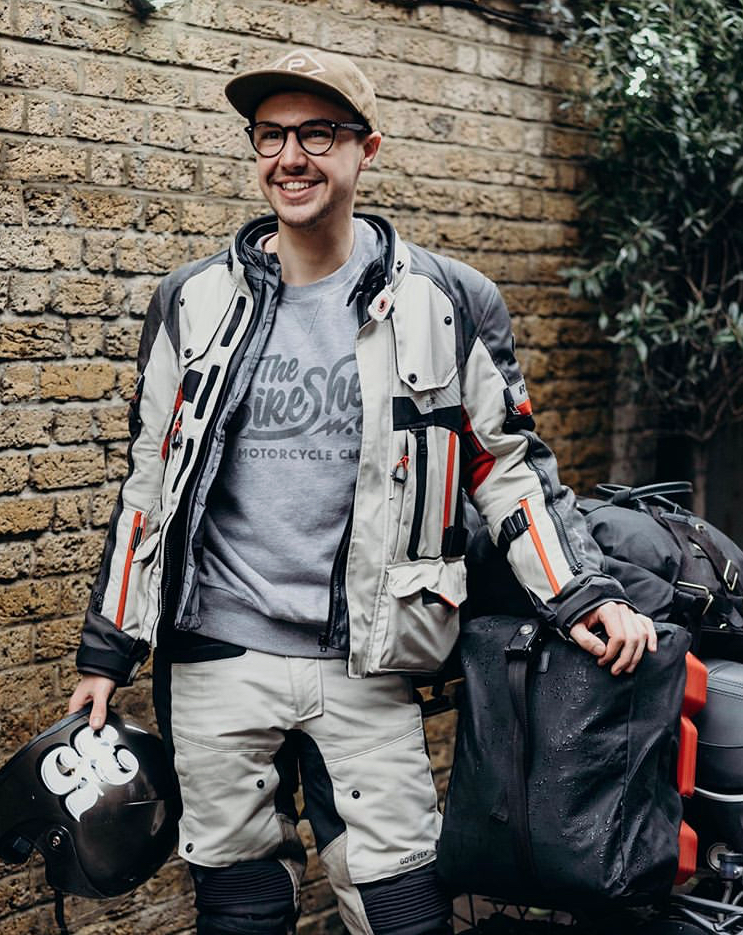 This is Henry Crew. I don't know whether this image was taken before, during or after his trip, but it almost doesn't matter. You can see the passion for this project on his face, and maybe just a little apprehension, too. You can learn more about Henry, his record-setting journey, and what he's up to now by visiting his web site. If you'd like to show your support for what he's accomplished, his UK-based Movember donation page is here. Be sure to say hello on Instagram, too. He's @henrycrew. Below, two of many videos you'll find on Henry and his journey, one speaking to the Movember cause, and the second a lovely take by the lovely people at Stories of Bike.
Henry mentioned Kane Avellano in our conversation… here's where you can find out more about him. Another one of those Millennials who don't ride motorcycles, apparently (said Bruce, with just a touch of saracasm). Interestingly, the motorcycle Kane Avellano rode around the world for his record was a Triumph Bonneville, a bike whose emotional appeal surely eclipses its supposed capabilities as an adventure machine. Proving at the very least that the best bike for the job is the one you love.
Speaking of emotional appeal, one of the most interesting aspects of this story for me was Henry's marketing-savvy approach to attracting publicity for his cause. In our conversation, we talked a bit about the role fashion has assumed in motorcycle culture, and how some in our community dismiss this a little too easily. To me, there are a couple of reasons why this was both a smart and necessary part of the story, and they serve as a lesson for what the industry might do to welcome new riders: first, when pop culture decides that motorcycling is cool, that benefits motorcycling, and we need to make room for that. And second, the communities that form around popular culture – fashion, in the example here – are naturally viral, and a far better way to get a message out to the world than simply trying to shout it from the rooftops. For the industry, I think this kind of thing is going to have a far bigger impact on on the viability of our sport than trying to find a few more horsepower will ever do. You can see a list of brands Henry has partnered with here. One that played an important role in equipping him for the trip was Malle, whose name you might recall from my interview with Hugh Francis Anderson a couple of years back. Here's a quick look at what they sell. Beautiful stuff that also worked. And here is a peek at The Bike Shed, Henry's point of departure, significant here because it's a pretty groovy place in a pretty fashionable neighbourhood.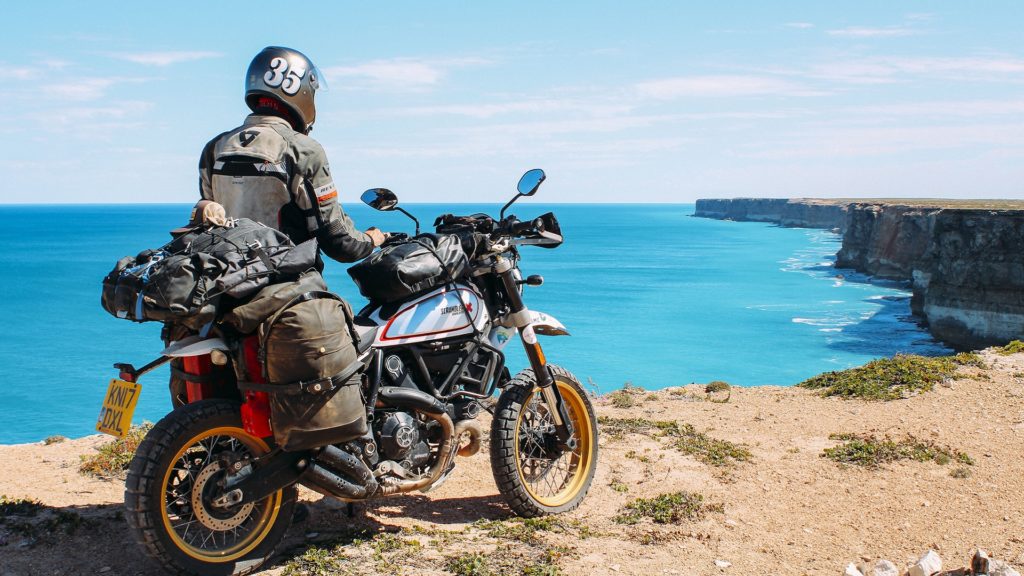 I humbly submit that Ducati won the lottery with Henry Crew, when you consider that the bike he borrowed didn't even come from head office. Here's a link to their treatment of Henry's trip. I'm so impressed that the Desert Sled performed as well as it did, and Henry couldn't have been more effusive in his praise. That bike is clearly worth a second look.
I hope you like the updated podcast theme music. It comes thanks to the initiative and talent of Toronto's Harry Bartlett, who arranged and performed all of it. You can learn more about Harry here . If you want to say hi, or even look into getting music for your own podcast project, you can find him on Instagram. He's @barryhartlett. Thanks, Harry.
Thank you to The Wild Horses for so enthusiastically agreeing to having 'I Won't Back Down' featured in this episode. You can learn more about the band here, if your Spanish is good. And here is their Facebook page, where they're sharing their quarantine experience with good humour and great music. Stop by and say hi. Stay well, guys.
If you enjoy listening to This Motorcycle Life and want to show some love, please consider clicking on the moustache below and donating what you can to the Movember Foundation.