Do you still remember your first time? The elation of that first season is a big part of what makes motorcycles so addictive, and it can become elusive as the years go by. Meet Neale Koumbiadis, whose motorcycle life is so new he doesn't even own a bike yet. Just weeks into his journey, Neale – who also flies airplanes – described his first ride around a parking lot as "the most liberating thing I've ever done." More than just a chance to relive the rush of those early days, this conversation leaves us with a question only we can answer: are we still the riders we hoped we'd be when it all began?
Show Notes
Here is the wonderful video I shared with Neale the night before our interview. I remain a sucker for this kind of motorcycle cri de couer, even if it's sometimes a bit overcooked. I thought my guest might connect with it… especially the flying bit at the end. Great stuff.
When we spoke, I mentioned a YouTube video in which Neale and his wife surprised their kids with a trip to Disney World. Here it is. I'm sharing it here not just because it's incredibly cute, but because I think it's somehow appropriate to the theme of this episode: not forgetting how to experience unbridled joy. I'm pretty sure the future dirt biker is on the right.
For those interested, here's a link to an explanation of my province's motorcycle licensing regime. It's a simplified version of the graduated licensing system you see in the UK and European countries. I think it's better than a simple test, but truthfully, I wouldn't entirely mind if our licenses were as hard to get as they are in the UK… or as hard to get as a pilot's license.
Below are a couple of photos of Neale and his youngest daugther and riding buddy. Every once in a while, I have a good idea about two hours too late, and this episode is one of those times. Wouldn't it have been a blast to interview them together?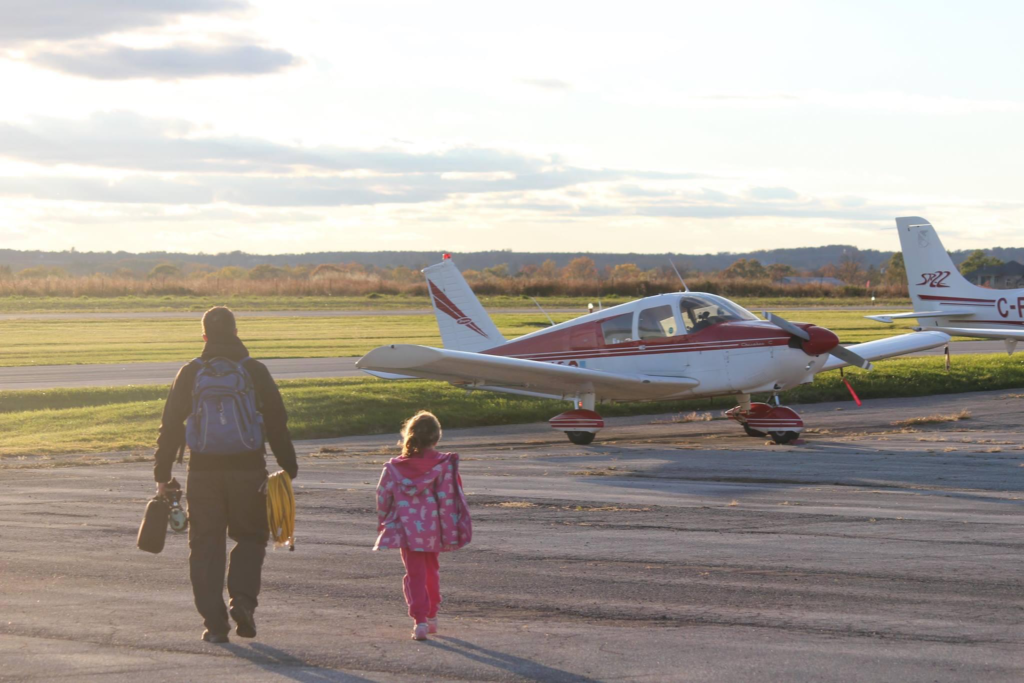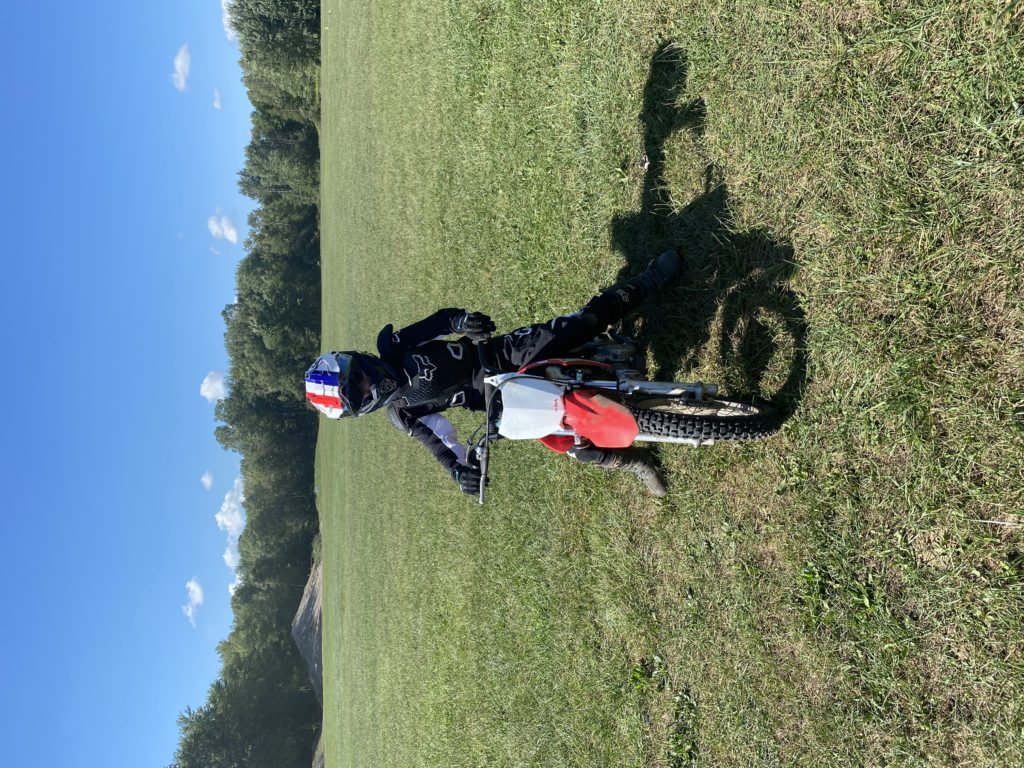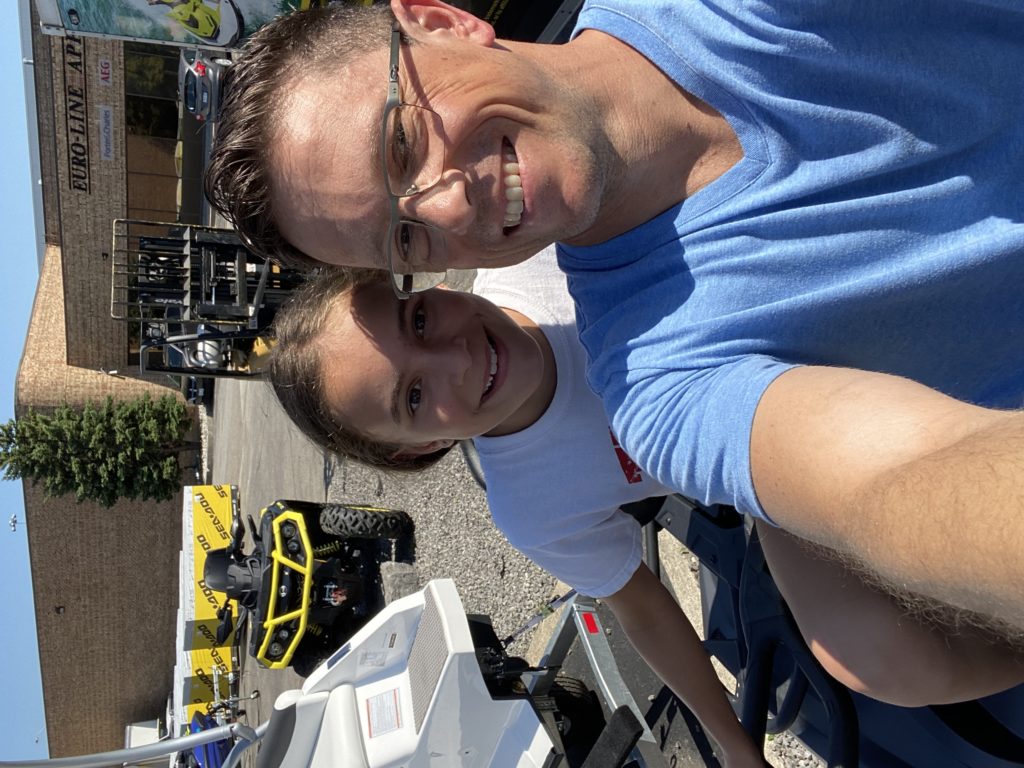 After our conversation (in the spirit of mentoring, of course), I sent Neale some information on ADV star Jocelin Snow for his daughter, and a nearby adventure riding school run by BMW for him. The BMW Performance Riding Centre is on my 'try everything' list. This style of riding isn't an ambition of mine in particular, but a few years ago I attended a talk by technical riding wizard Clinton Smout and was converted to the idea that some of these skills would be useful even to me.
You can find Neale Koumbiadis on Instagram, if you want to say hi, although his account is private. He's @nealekoumbiadis
A day or two later, Neale followed up with the image below, which sums up what drives him to "try everything." I've seen it before, but it's never been quite so on the nose as it is for the subject of this episode. I wish him many happy miles.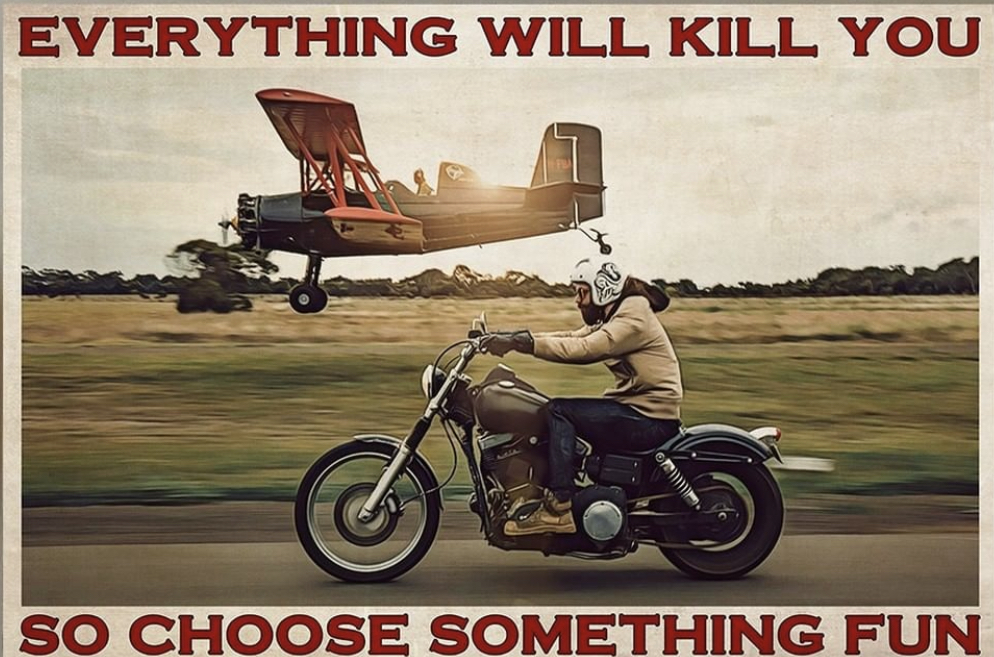 My sincere thanks to Donovan Woods and his team for being so responsive to my request to feature "The First Time" on this episode. Sometimes, this turns out to be the most difficult production chore I have, leading to a lot of dead ends and unanswered emails. Not so here, and that makes me even happier to share his music with you. If you want to get to know him better, his web site is a great place to start. You'll find that here. And you can follow him on Instagram… he's @donovanwoods
And as always, the theme music for this episode was arranged and performed by Harry Bartlett.
Finally, a nudge to scrounge up a few bucks from the couch cushions and make a contribution to the Movember Foundation in the name of this podcast. They could use all the help you can give them, and I'll know you value this content. Thank you!