If you had to do it again, how hard would you fight to have a motorcycle in your life? Meet Angie Sandow, whose mid-life return to riding faced her with every obstacle you can imagine, starting with the fact she had been born with only one hand. Angie shares the story of how a cancer diagnosis and a random gig with her AC/DC tribute band led her back to her childhood passion, and with it a newfound sense of purpose. A timely reminder that anything is possible if we want it enough… and that we can never take for granted the battles we've already won.
Show Notes
Only because I write these notes more or less in the order each subject came up, let's start with my adventure into podcast merchandise. You can find my work-in-progress store here while I work on adding it to the web site. I've started off with a short list of t-shirt and coffee mug kinds of things, but I'm open to suggestions. The platform I'm using seems pretty flexible, they stand behind their product, and there's lots to choose from. Thanks in advance for having a look, and for helping me out with my internet workaround.
The TS Eliot quote that begins "we shall not cease from exploration" is frequently used out of context and bent to a variety of purposes, which I have probably also done here. If you're curious to read the complete poem, here it is.
I hope you didn't mind so much Canadian 'inside baseball' during this episode (or maybe hockey would be a more appropriate analogy), but I especially enjoyed being able to share a homegrown story. And even more so because I could plug the good folks at Mission Cycle, who built Angie's early bikes and just happen to work on mine. You'll find them here… and don't tell Todd I said he was cuddly. They're awesome. Angie also mentioned Motorcycle Enhancements, whose web site is here.
You've probably noticed that I'm a fan of motorcycle films, and part of the reason is that I really believe, if they tell compelling enough stories, they can actually grow the sport. Last year, Angie put herself out there yet again with a film of her own, and while she waits for the festivals to adjudicate, you can check out the trailer by clicking on the poster below.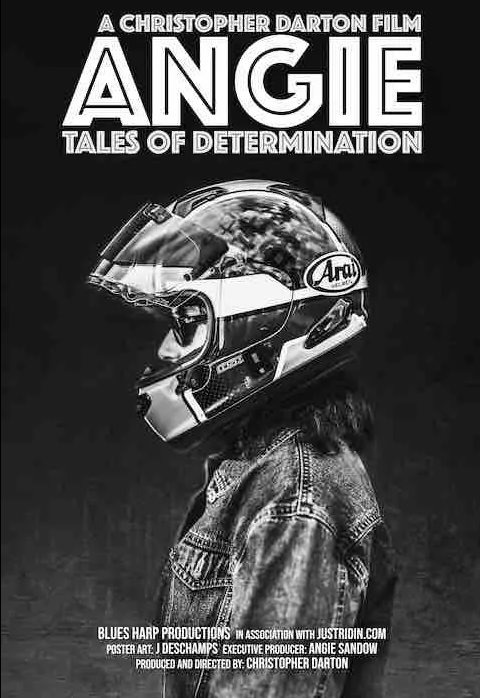 If you'd like to connect with Angie or just follow her as she builds her platform, start with a visit to her web site. And here are direct links to her social feeds… on Facebook, Instagram and Twitter.
She also asked me to share a link to an event she'll be part of, assuming we can travel more freely in the coming months, the Rally in the Rockies.
I really wanted to feature an instrumental version of Thunderstruck so that non-guitarists and non-fans of AC/DC could appreciate how challenging it is to play… and then imagine doing it with one hand. There are countless covers of the song, including instrumental treatments in seemingly every genre. But Luca Stricagnoli's performance is without peer, and it's remarkable to watch. I was unsuccessful in reaching Luca or anyone at his record label, but given that it's available on YouTube in its entirety, decided to share it with you anyway. You can purchase the track for yourself on Apple Music, where it can also be streamed – that's where I got mine – and I'm sure it's available on other streaming platforms.
As always, the theme music for this episode was arranged and performed by Harry Bartlett.
Finally, a nudge to scrounge up a few bucks from the couch cushions and make a contribution to the Movember Foundation in the name of this podcast… just click on the moustache below. Especially now, they could use all the help you can give them, and you'll be letting me know how much you value this content. Thank you!