Where is motorcycling going? Depending on whom you listen to, the answer can be anywhere from soulless techno-utopia to outright extinction. In this episode, we're listening to legendary racer, designer, engineer and entrepreneur Erik Buell, who thinks the sky's the limit. In a wide-ranging conversation that takes us from his "terrifying" 1980s race bikes to the electric imperative that could secure the future of the sport for us all, Buell shares what might be the greatest lesson of his storied career so far: that the past may be prologue, but the future will always be up to us.
Show Notes
Many thanks to Marina Mann of EatSleepRIDE for helping make this interview happen. The folks there ended up interviewing Erik, too, and the resulting articles make a great companion to this episode.
Here's an article about the Lotus Evija, my ambivalence about which ended up motivating this inquiry. I want to stress again that I think whatever puts a smile on your face is cool, and even better if it does less harm to the world. For me, it's more that these things force a deconstruction of something we love, demanding that we be more specific about what matters and what doesn't. I wasn't just being polite about Buell's response that being beautiful and handling well are plenty to love about about a motorcycle, not to mention the instant torque of electric propulsion. I really was persuaded.
I mentioned early in this episode that I didn't feel like I could add much to Erik Buell's story by mining his business history. Part of the reason for this is that he recently gave an interview with Motorcycles and Misfits, a favourite podcast of mine, in which they did a great job of capturing Erik's perspective on this and the Harley years in particular. If you're interested in that, and I know many will be, you can find that interview on your favourite podcasting platforms or by going to Motorcycles and Misfits' web site.
If you're less familiar with the Erik Buell story, a great place to start is the AMA Hall of Fame profile, which nicely balances his life as a racer and builder with the entrepreneurial side of his remarkable career. Wikipedia adds some colour to the business side of the narrative.
This article from Hemmings provides the full back story on Buell's first sport bike design. Hearing Erik talk about this, it was clear that this bike happened perhaps more because he wanted to keep racing than because he thought there was a business in it, foreshadowing the passion that would underscore his career in the years ahead.
This is Fuell motorcycles, Buell's current project. Check out this page for a video of Buell explaining his interest in Fuell's mission. "I love the idea of personal freedom," he says, "personal mobility." Fuell's launch got lots of attention, due in no small part, I'm sure, to the fame of the Buell name. Here are a couple of examples of the coverage, this from Hemmings, and this from Forbes.
During our conversation, Erik mentioned a book called The Innovator's Dilemma, by Harvard professor Clayton Christenson. This book was a must read in business circles for a long time, and citing it in this conversation was a very interesting choice. Christensen argues for disruption as essential to survival, and that being big, effective and efficient aren't enough to guarantee eternal life for a corporation. Buell's message to the famously conservative motorcycle industry remains, as ever, clear.
Thanks to Erik Buell for sharing his music with us for this episode. "You're Not Alone" is an original composition, but Erik wanted to make sure that all the players were credited. It's not "an official band," he wrote me, but "a live recording with these guys sitting in impromptu. [Their names are] Lee Williams and Richard Crisman…aka Daddy Rich." As an aside, I remain astonished by how many motorcyclists I know play guitars.
As always, the theme music for this episode was arranged and performed by Harry Bartlett.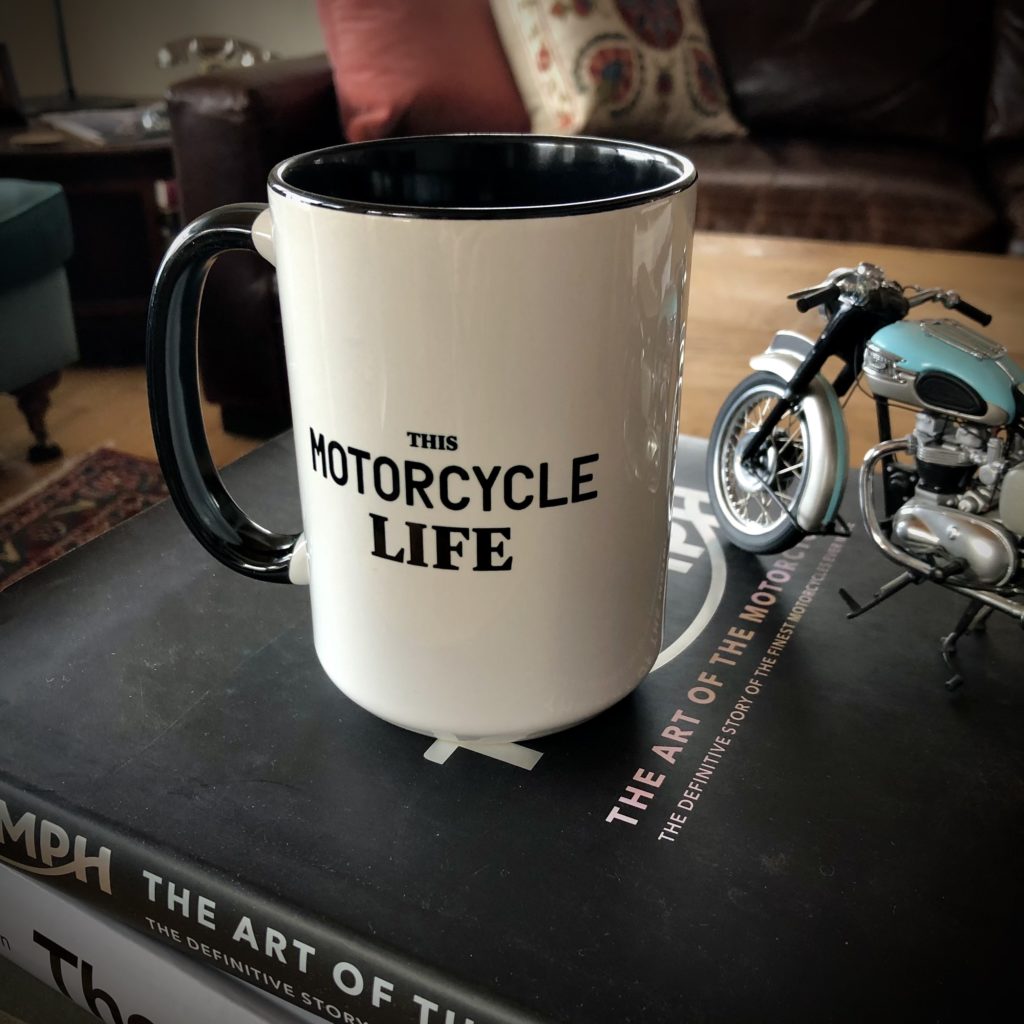 Finally, a nudge to scrounge up a few bucks from the couch cushions and make a contribution to the Movember Foundation in the name of this podcast… just click on the moustache below. Direct donations do the most good, but if you'd like to get a souvenir for yourself while you donate, you can buy a TML coffee mug just like the one pictured above by shopping here. Either way, they could use all the help you can give them, and I'll know you value this content. Thank you!